Secret 1 is the Golden Poo.
You're rolling in it!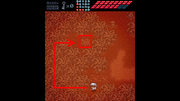 It is found in Red Cave in the southwestern section of the cave beyond the map and is easily reachable via the Swap, however, the actual entrance to this area is hidden nearby in the Red Sea through some fake walls. Entering the area through this entrance reveals the it to be a reference to The Binding Of Issac, as the music will be different and the sprites of the enemies inside will instead resemble enemies from the game.