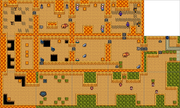 HAPPY is a location that is made of pure gold, according to the people that are present in it. These people are sex and greed-driven, and possibly influenced by drugs, as they are initially surrounded by greenery that vaguely resembles marijuana leaves that is later lit on fire. As Young progresses further into the area, the surrounding environment turns into flames. The map includes challenging enemies, such as Lions and Clontorts. Once Young completes the map, lava flows down the empty channel into GO.
Connections
Edit
To the east of HAPPY is GO.
Ad blocker interference detected!
Wikia is a free-to-use site that makes money from advertising. We have a modified experience for viewers using ad blockers

Wikia is not accessible if you've made further modifications. Remove the custom ad blocker rule(s) and the page will load as expected.