Card 5 is a Slime card.
This card is found in the first dungeon, the Temple of the Seeing One.
From the entrance, head north.  Using the dust to get past the pew pews, head North again.  Here, defeat the shieldies to advance east.  In this room, defeat the annoyers and shieldies to advance south.  Head West to reach the chest with the slime card.
Description
Edit
"Jello there, Young!
So goo to flanly meet you!
Why don't you set for a minute?
I was just pudding on some tea"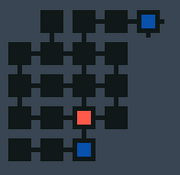 Ad blocker interference detected!
Wikia is a free-to-use site that makes money from advertising. We have a modified experience for viewers using ad blockers

Wikia is not accessible if you've made further modifications. Remove the custom ad blocker rule(s) and the page will load as expected.