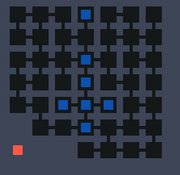 In the Red Sea, from the nexus portal, go Down, Down, Down. You should be at the bottom-most entrance to the dungeon. From here go Left, and you'll be at a small pathway at the top of the screen with two bats. Swap into the bottom portion of the screen, a large open field. Go Down, Left, Left and you'll be at the chest.
Description
Edit
"I'LL TAKE IT OUT ON YOU"
Ad blocker interference detected!
Wikia is a free-to-use site that makes money from advertising. We have a modified experience for viewers using ad blockers

Wikia is not accessible if you've made further modifications. Remove the custom ad blocker rule(s) and the page will load as expected.