Card 4 is a shieldy card.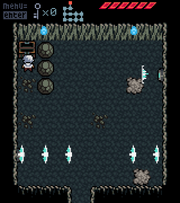 This card is found in the first dungeon, the Temple of the Seeing One, on one of the northwestern most rooms.  You must defeat all the enemies in the room for the gate in front of the chest to open.
Description
Edit
"Are you an Ookchot?
My mom always warned me about the Dangerous Ookchot."